Vielleicht ist es diese Verdüsterung gewesen, die mich daran erinnerte, daß ich vor mehreren Monaten aus der Eastern Daily Press einen Artikel ausgeschnitten hatte über den Tod des Majors George Wyndham Le Strange, dessen Domizil das große steinerne Herrenhaus von Henstead jenseits des Brackwassersees gewesen war. Le Strange habe, so hieß es in dem Artikel, während des letzten Krieges in dem Panzerabwehrregiment gedient, das am 14. April 1945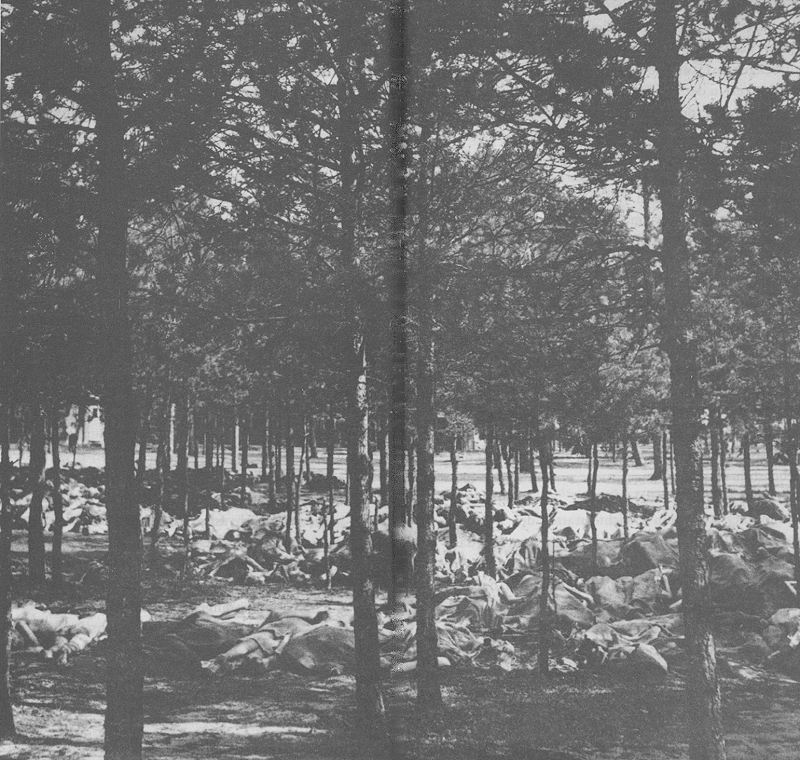 das Lager von Bergen Belsen befreite, sei aber, unmittelbar nach dem Waffenstillstand, aus Deutschland zurückgekehrt, um die Verwaltung der Güter seines Großonkels in der Grafschaft Suflfolk zu übernehmen, die er, wie ich von anderer Seite weiß, zumindest bis Mitte der fünfziger Jahre in vorbildlicher Weise bewirtschaftete. Zu jener Zeit war es auch, daß Le Strange sich die Haushälterin verschrieb, der er zuletzt sein gesamtes Vermögen vermachte, die Ländereien in Suffolk sowohl als einen auf mehrere Millionen Pfund geschätzten Immobilienbesitz in der Innenstadt von Birmingham. Dem Zeitungsbericht zufolge hatte Le Strange diese Haushälterin, eine einfache junge Frau namens Florence Barnes aus dem Landstädtchen Beccles, eingestellt unter der ausdrücklichen Bedingung, daß sie die von ihr zubereiteten Mahlzeiten mit ihm gemeinsam, aber unter Wahrung absoluten Stillschweigens einnehme. Nach den anscheinend von Mrs. Barnes selber der Zeitung gegenüber gemachten Angaben ist die einmal getroffene Vereinbarung von ihr getreulich eingehalten worden, auch nachdem die Lebensführung Le Stranges mehr und mehr ins Exzentrische sich zu wandeln begann. Zwar hatte sich Mrs. Barnes, von dem Berichterstatter der Zeitung hierzu zweifelsohne eindringlich befragt, nur auf das zurückhaltendste geäußert, doch haben meine eigenen seither angestellten Nachforschungen ergeben, daß Le Strange gegen Ende der fünfziger Jahre nach und nach all sein Hauspersonal ebenso wie seine Landarbeiter, Gärtner und Verwalter entlassen hatte, daß er von da an in dem großen Steinhaus allein mit der schweigsamen Köchin aus Beccles lebte und daß infolgedessen das ganze Gut, die Gartenanlagen und der Park zusehends verwilderten und verfielen und die brachliegenden Felder von ihren Rändern her zuwuchsen mit Strauchwerk und Gestrüpp.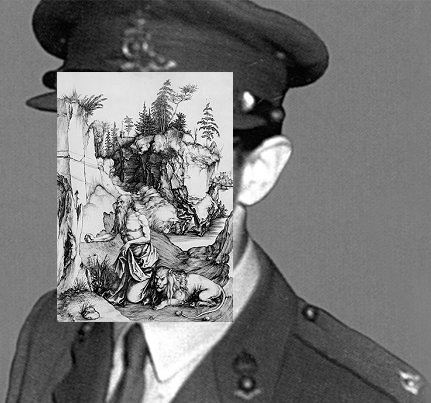 Abgesehen von dergleichen, offenbar von der Beobachtung des tatsächlich Vorgefallenen veranlaßten Bemerkungen waren in den an die Domäne angrenzenden Dörfern einige den Major selber betreffende Geschichten im Umlauf, denen man wahrscheinlich nur bedingt Glauben schenken darf. Sie beruhten wohl auf dem Wenigen, das gerüchtweise im Verlaufe der Jahre aus der Tiefe des Parks an die Öffentlichkeit gedrungen war und das demzufolge die im engeren Umkreis lebende Bevölkerung in besonderem Maße beschäftigte. So hörte ich zum Beispiel in einer Wirtschaft in Henstead sagen, Le Strange sei in seinem späteren Alter, weil er seine Garderobe völlig abgetragen hatte und neue Stücke sich nicht mehr zulegen mochte, in Kleidern aus früheren Zeiten herumgegangen, die er bei Bedarf aus den Kästen auf dem Dachboden seines Hauses hervorholte. Es gab Leute, die behaupteten, ihn gelegentlich gesehen zu haben in einem kanariengelben Gehrock oder einer Art Trauermantel aus verschossenem veilchenfarbenem Taft mit vielen Knöpfen und Ösen. Auch hieß es, Le Strange, der immer schon einen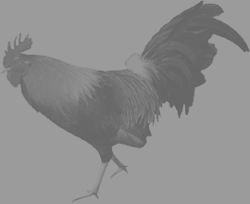 zahmen Hahn

auf seinem Zimmer gehalten hatte, sei nachmals ständig umschwärmt gewesen von allem möglichen Federvieh, von Perlhühnern, Fasanen, Tauben und Wachteln und den verschiedensten Garten- und Singvögeln, die teils am Boden um ihn herumliefen, teils in der Luft ihn umflogen. Einmal im Sommer, so erzählten einige, habe Le Strange in seinem Garten eine Höhle ausgehoben, in der er dann tage- und nächtelang gesessen sei gleich dem heiligen Hieronymus in der Wüste. Am eigenartigsten aber war die, wie ich vermute, von den Bediensteten des Leichenbestatters in Wrentham ausgegangene Legende, daß die helle Haut des Majors bei seinem Ableben olivgrün, sein gänsegraues Auge tiefdunkel und sein schlohweißes Haar rabenschwarz geworden sei. Was ich von solchen Geschichten halten soll, das ist mir bis heute nicht klar.

The story appears to be an invention. No Major George Wyndham Le Strange ever lived in Henstead, no Florence Barnes appears in the voting registers, and the Eastern Daily Press has no record of the clipping Sebald provides ever appearing in the pages of the newspaper. The article is thus probably a forgery (note in particular the unusual margins); if it is, moreover, it is almost certainly Sebald's forgery. The notation in the upper right-hand corner reads, I believe,


'16.IV.92'

(Sebald's habit of latinizing the months on his dates is evident in his personal correspondence.) Sebald has thus personalized' this forgery, signed off on it with a highly individual mark (moreover the date of the liberation!). This makes the photographic reproduction of the 'article' even stranger. Particularly in the English edition, providing the article is entirely tautological, and appears solely, it seems, to authenticate the narration. In reality, however, it undercuts the narration. Presenting the evidence after one has presented one's account of it seems like a strange gambit to begin with. But the fact that the article is a forgery, and one by the author, serves to complicate the text's relation with the Bergen Belsen image that preceded it.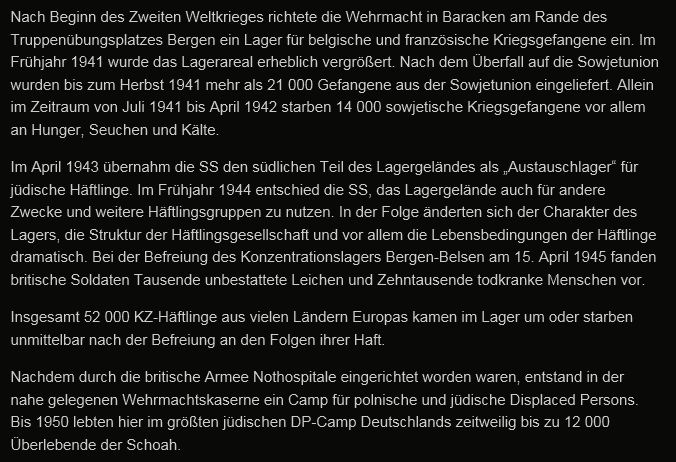 If the picture indeed shows Bergen Belsen, why use this image rather than any other? I am convinced that in choosing this particular image to 'introduce' Bergen Belsen, Sebald is in dialogue with certain traditions of landscape depiction. There are literally hundreds o f pictures taken on or around the day Allied forces liberated Bergen Belsen - most of them depicting piles of dead bodies, some in front of the actual camp itself, some in open mass graves, some alongside a dirt road. None of them, however, have the particular dynamic of the image Sebald chooses. For one thing, in most of them the dead bodies are the landscape. The camera can hardly take in anything else, and the viewer is pulled into a vertiginous perspective in which there is nothing but dead bodies. In other photographs the opposite is the case: the picture is carefully orchestrated so as to contextualize the dead bodies. Barracks appear in the back, signs, gravel roads.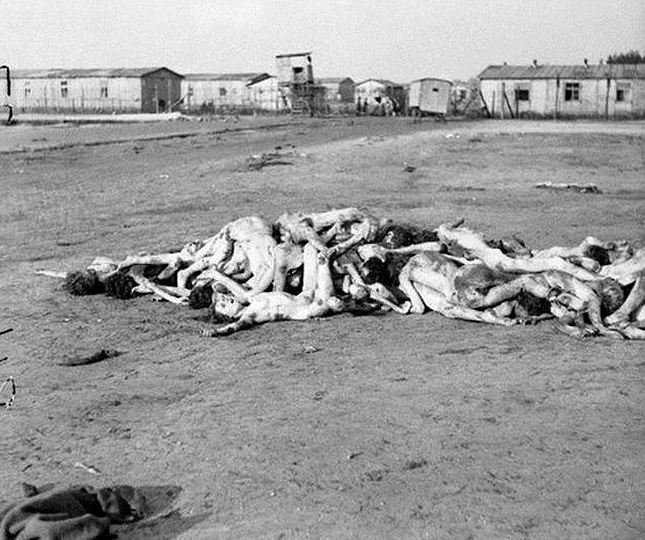 But even among the pictures that just show dead bodies in the forests surrounding Bergen Belsen, Sebald's picture stands out. Unlike many other photographs of the victims o f Bergen Belsen, it emphasizes the landscape in which the atrocity took place. In fact the framing o f the picture is downright off-putting since it seems to put the trees in the center and turn the dead into almost unidentifiable hovels on the ground. Furthermore, the three trees in the foreground seem to block access to the kind of gaze that landscape photography usually invites. Rather than opening up before our eyes, this landscape is closed to us, offering no place in which the subject can 'find' itself within the picture frame. Ulrich Baer has identified the tension between the 'landscape character, as a setting for experience and memory, and the abstracted depiction of inhospitable terrain' as a characteristic feature of photography of the disappearing sites of the Holocaust: 'We are allowed to enter a site that will not fully accommodate our view' - 'the invitation to enter is fused with an aura of exclusion.' The image is truncated - not only is it, as we have seen, unclear what this is a picture of but it offers us no particulars to relate to in a 'proscenium' to the landscape of destruction (for example, the survivors that are often seen in the foreground of other images of the camps' liberation).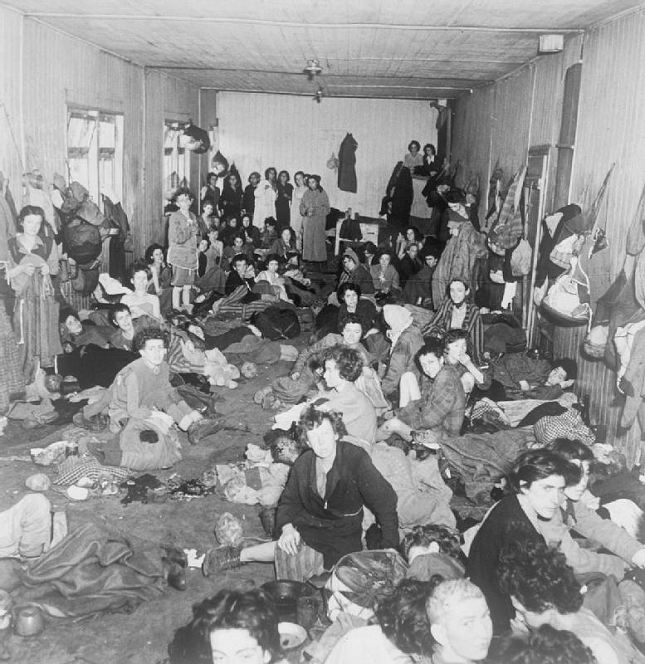 Finally, the photograph also prohibits the emergence of a true perspective. The trees occlude any horizon line or fugitive point, allowing us to realize that there is something to be seen without allowing us to actually see it. Unlike the 'crime-scene' pictures of Bergen Belsen, in which the camp features either directly or metonymically, this photograph acknowledges our desire for perspective and context, but simultaneously stymies it. Thus barred from the visual field, the viewing subject can locate itself only in the indexical position itself, in what Metz called 'the act of the taking.' While the picture of Bergen Belsen thus functions as an irruption into the text of the novel, the text of the novel answers an inherent lack within the picture. Unless the novel had constructed a Major George Wyndham Le Strange to see Bergen Belsen and to thus 'authorize' the photograph, the picture would have continuously disavowed its own having been taken.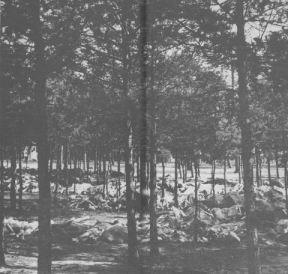 Even if the photograph really depicts what the novel claims it does, it would seem that the picture appears here as a simulation similar to the photographic collections of Christian Boltanski. That rather than what Barthes calls 'the impossible science of the unique being,' what we see photography performing here is a simulation - the irruption that allows for the shock, the mystery, and the sheer incomprehensibility of what Major Le Strange saw. There is no melancholy in this construction, a pure referential play without the narcissistic ego or the lost object, the 'wound,' which are purely simulacral.

However, the image is not pure simulation. The textual modes of recuperation reinvest it with a pseudo-punctum, a site for melancholic, libidinal attachment. But how could a photo of unclear provenance become a 'lost object' ? In constructing his captioning story, Sebald has laid clear clues to why this floating signifier may indeed double as a focus for melancholy. While there is no evidence that a Major George Wyndham Le Strange was in fact at Bergen Belsen to 'authorize' this photograph by having seen what it depicts, there is another one of Sebald's 'ghosts' who has: Jean Améry (1912 - 78), another (Austrian) Jewish émigré, with whom Sebald dealt both in his critical writings and in his novels. Améry left Austria in 1938 and joined the resistance in Belgium. He was arrested and tortured in the fortress at Fort Breendonk, a site which Sebald's narrator visits in Austerlitz. He was later deported to Auschwitz and was eventually liberated in Bergen Belsen in April 1945.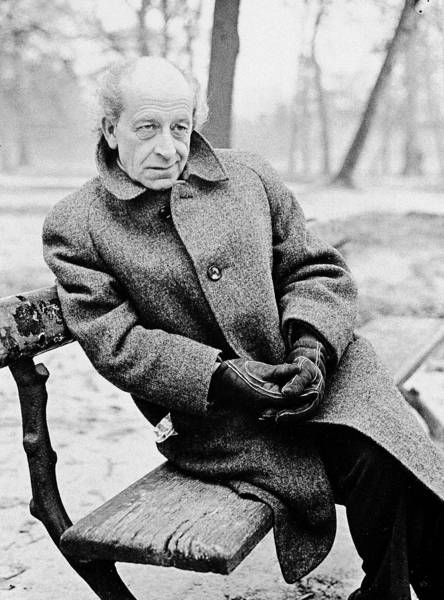 The name 'Améry' was in fact a pseudonym, an anagram of Améry's birth-name 'Maier' (the 'i' became a 'y' in the transposition), assumed in order to wrest the proper name from the Mördersprache. Perhaps George Wyndham Le Strange is nothing but a rearrangement of 'Winfried Georg Sebald,' once again with the 'i' being 'translated' into a 'y'. Furthermore, Sebald lived in Wymondham in East Anglia and in interviews, Sebald claimed that his first exposure to the crimes committed by his countrymen around the time o f his birth was in fact an educational reel on the liberation of Bergen Belsen. Perhaps, then, the lost object in this case is simply that first depiction of the site, the original shock which the photograph's placement within the text hopes to recreate. All this suggests that perhaps the major is none other than Sebald visiting the site of his 'initiation' into the Holocaust. That this Le Strange is initiated in reality (much like the actual British soldiers overwhelmed by what they saw in Bergen Belsen), while Sebald himself is initiated through filmic images, only heightens the suggestiveness of the identification. What Le Strange 'sees' is available to the melancholic 'I' that uses him as a prop always already as a representation.

Freud pointed to the connection of melancholia to narcissism (usually manifested as shame). A friend of Sebald's once told me that the author was always overjoyed at finding connections between his own family (in this case his uncle Adelwarth) and those of Jewish émigrés. One could say that the same joy of connections animates his novelistic oeuvre - the superimpositions, doublings, and mirrorings safeguard the possibility of melancholia, since they ensure that the self-cathexis is never fully lost. Whereas Kluge's captions interpellate a potential/subjunctive subject (if there is a subjective space for seeing, this 'blind spot' allows for futurity), Sebald's captions interpellate a compulsive subject (someone must be there to see). This insistence on the necessity of a 'wound,' Sebald's simulated melancholia, is thus simply the mode of attendance of the 'pilgrim,' the 'Wallfahrer.'
Adrian Daub "Searching for Sebald" S. 322ff