When I leave this world behind me
To another I will go
If there are no pipes in heaven
I'll be going down below
If friends in time be severed
Someday we will meet again
I'll return to leave you never
Be a piper to the end

This has been a day to die for
Now the day has almost gone
Up above a choir of seabirds
Turns to face the setting sun
Now the evening dawn is calling
And all the hills are burning red
And before the night comes falling
Clouds are lined with golden thread

We watched the fires together
Shared our quarters for a while
Walked the dusty roads together
Came so many miles

This has been a day to die on
Now the day is almost done
Here the pipes will lay beside me
Silent will the battle drum
If friends in time be severed
Someday here we will meet again
I return to leave you never
Be a piper to the end
Wenn ich diese Welt verlasse
Werde ich zu einer andern gehen
Wenn es da im Himmel keine Dudelsäcke gibt
Dann geh ich runter
Wenn Freunde auch durch die Zeit getrennt wurden
Eines Tages werden wir uns wieder treffen
Ich werde zurückkommen und euch nie mehr verlassen
Bin ein Dudelsackspieler bis ans Ende

Das war ein Tag für den man sterben könnte
Nun da der Tag beinahe zu Ende ist
Da oben fliegt ein Schwarm Seevögel
Sie drehen um, um die untergehende Sonne zu betrachten
Nun bricht die Abenddämmerung herein
Und die Berge sind in rotes Licht getaucht
Und bevor die Nacht hereinbricht
Sehen die Wolken aus als ob sie aus goldenem Garn gesponnen wären

Wir haben die Feuer zusammen beobachtet
Teilten uns die Unterkunft für eine Weile
Gingen zusammen auf den staubigen Strassen
So viele Meilen weit sind wir gekommen

Das war ein Tag zum Sterben
Nun da der Tag beinahe vorbei ist
Hier neben mir wird der Dudelsack liegen
Schweigen wird die Kriegstrommel
Wenn Freunde auch durch die Zeit getrennt wurden
Eines Tages werden wir uns wieder treffen
Ich werde zurückkommen und euch nie mehr verlassen
Bin ein Dudelsackspieler bis ans Ende
Onkel Freddie (der Bruder Marks Mutter) war Dudelsackspieler im 1st Battalion Royal Highland Regiment und fiel im WK II.
Mark:
Piper To The End is for my Uncle Freddie, Lance Corporal Frederick John Laidler, a piper of the 1st Battalion, Tyneside Scottish, The Black Watch, RHR, who carried his pipes into action and was killed with them at Ficheux, near Arras on the 20th May, 1940, aged 20.
I didn't know him, of course, but I was close to my uncle Kingsley, my mum's brother. He first taught me to play the boogie-woogie piano, and Freddie was Kingsley's older brother. The pipes always made sense to me, and growing up in Glasgow as well as Newcastle, in my grandmother's home, there were Jimmy Shand records, so the sound of Celtic music always seems familiar to me.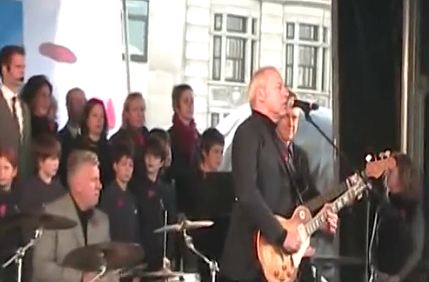 Mark mit dem Trevor Roberts School Chor auf dem Trafalgar Square am 11. November 2009.
Die Royal British Legion organisiert dort "Silence in the Square" in Erinnerung an die
Gefallenen der Weltkriege und anderer Konflikte.