1978 In The Gallery
Harry made a bareback rider proud and free upon a horse
And a fine coalminer for the NCB that was
A fallen angel and Jesus on the cross
A skating ballerina you should have seen her do the skater's waltz

Some people have got to paint and draw
Harry had to work in clay and stone
Like the waves coming to the shore
It was in his blood and in his bones
Ignored by all the trendy boys in London and in Leeds
He might as well have been making toys or strings of beads
He could not be in the gallery

And then you get an artist says he doesn't want to paint at all
He takes an empty canvas and sticks it on the wall
The birds of a feather all the phonies and all of the fakes
While the dealers they get together
And they decide who gets the breaks
And who's going to be in the gallery

No lies he wouldn't compromise
No junk no bits of string
And all the lies we subsidise
That just don't mean a thing
I've got to say he passed away in obscurity
And now all the vultures are coming down from the tree
So he's going to be in the gallery
Harry erschuf einen sattellosen Reiter stoz und frei auf seinem Pferd
und einen schönen Kohlenkumpel für die NBC das war
ein gefallener Engel und Jesus am Kreuz
eine Eislaufballerina die du beim Schlittschuhwalzer gesehen haben musst

Manche Leute malen und zeichnen
Harry musste in Ton und Stein arbeiten
Wie die Wellen an die Küste schlagen
Lag es ihm im Blut
Ignoriert von all den trendy boys in London und Leeds
Genauso gut hätte er Spielzeug oder Perlenketten machen können
In eine Galerie ließ man ihn nicht

Und dann kommt ein Künstler der sagt er will überhaupt nicht malen
Der nimmt eine leere Leinwand und pinnt sie an die Wand
Alles Vögel derselben Sorte all die Lügner und jede Fälschung
Und die Händler tun sich zusammen
Entscheiden wer den Zuschlag bekommt
Und wer in die Galerie kommen darf

Keine Lügen er würde es nicht akzeptieren
weder Gerümpel noch Mist noch winzige Strichlein
Und alle die Lügen fördern wir
Die überhaupt nichts besagen
Und schließlich habe ich sagen hören tauchte er unter
Und jetzt kommen sie alle die Geier vom Baum
Während er einzieht in die Galerie
Über Kunst lässt ich streiten.
Ist etwa dieses Werk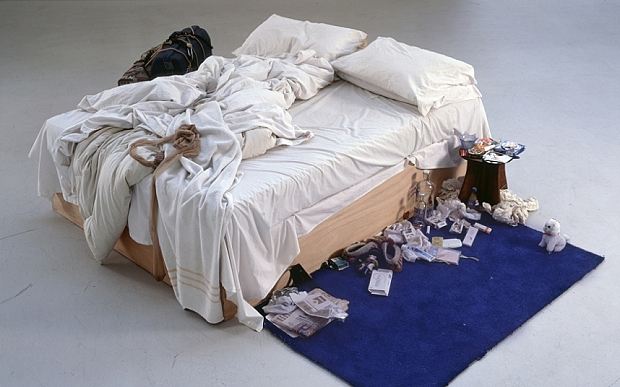 von Tracey Emin, entstanden 1998 (ungemachtes Bett, benutzte Kondome und blutverschmierte Unterwäsche - Tate Gallery) Kunst?
Nach Mark Knopfler verdient diese moderne Kunst wohlverdiente Verachtung.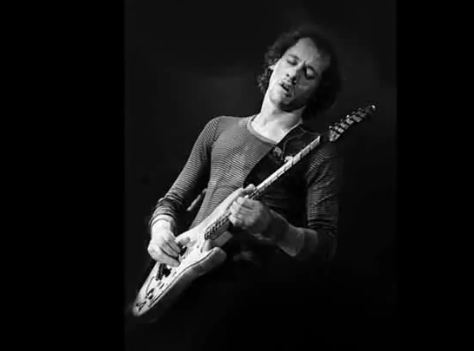 "In The Gallery" ist eine Hommage an Harry Phillips (1911 - 1976), Künstler und Bildhauer aus Leeds, Vater von Knopflers Freund und Bandmitglied der "Notting Hillbillies", Steve Phillips.
One day he visited an art gallery in Shaftesbury Avenue, and was not impressed by what he saw. According to band member John Illsey, the exhibits were laughable, and on the way back to their South London flat, Knopfler sat in the back of the car writing furiously. "I've just got to finish something off" he said as they arrived. He sat there for a further hour and a half, but it took a little longer to work out the music. According to Knopfler, it's all a big con which is subsidized by the public purse for "all the phonies and all of the fakes" while genuine artists like Harry Phillips are "Ignored by all the trendy boys in London and in Leeds" and live - and die - in obscurity.